A roadside bomb in Egypt's Sinai Peninsula was detonated against a convoy of soldiers today, killing at least 11 of them and wounding at least 37 others.
No group has yet claimed credit for the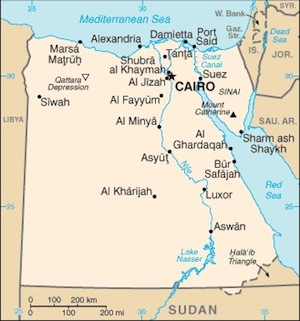 attack, one of several deadly strikes against Egyptian soldiers since the military junta launched an offensive against Sinai, which began shortly after their July coup d'etat.
Defense Minister Abdel-Fattah el-Sissi, the de facto military ruler of Egypt, has vowed to "avenge" the deaths of the soldiers. The junta had been insisting that the offensive was a rousing success and had cleansed much of the peninsula of "terrorism."
Nominally, the offensive against Sinai is targeting fighters loyal to Hamas, though many of the factions actually involved in the fighting there are actually local Sinai groups with no real connection to the Gaza-based Hamas. Efforts to paint it as a war against Hamas are aimed primarily at selling the public on the idea that they are in league with the ousted Morsi government, which was a close ally of Hamas.
Last 5 posts by Jason Ditz