Rumors of Secretary of State John Kerry's next visit to Israel being cancelled remain up in the air, but the visit is at the very least postponed, according to State Department officials.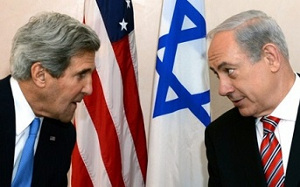 Israeli Prime Minister Benjamin Netanyahu had previously claimed Kerry was visiting on Friday of this week, the usual cap off to Iran talks where he tries to placate Israel and gives  Netanyahu a chance to condemn diplomacy in general.
With Israel and the US increasingly at odds, Kerry's visit has been postponed indefinitely, with officials saying he was likely to visit at some point after Thanksgiving, but no specific date was yet set.
Israel declined comment on rumors in their media that the visit was cancelled outright, saying that if the State Department was cancelling the visit it was up to them to say something.