Anger at the notion of diplomacy with Iran has Israel increasingly down on Secretary of State John Kerry, with many seeing his pro-diplomacy statements as inherently anti-Israel.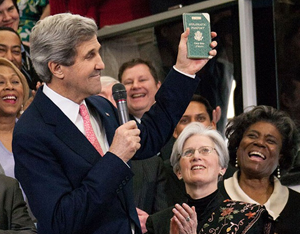 Top Israeli ministers are even suggesting he's not suitable as a mediator in the stalled talks between them and the Palestinians, and suggest the Israel-US relationship is increasingly hostile.
That's a major shift, as the Palestinians have long complained Kerry and other US officials are letting Israel dictate terms and set the talks up for failure.
Israel had loudly endorsed Kerry's nomination as a "pro-Israel" nominee, compared to considerable disquiet about Defense Secretary Chuck Hagel's nomination. Israel's opposition to the Iran deal seems to be driving its perception of other issues in a big way.
Last 5 posts by Jason Ditz