Israeli officials continue to rail against a diplomatic pact between the P5+1 and Iran, today focusing on the idea that such a deal would get in the way of Israeli plans to attack Iran.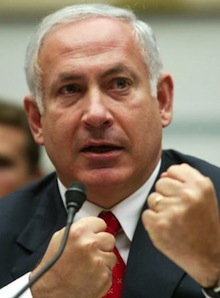 Over the weekend, the collapse of the deal was nominally on the exact opposite pretext, that Israel would use the deal as an excuse to start a war with Iran, but that seems not to be the case.
Major General Giora Eiland says that the deal would as a practical matter shut down any option of an Israeli attack, and while others insisted Israel would "do what's necessary," it would risk a major backlash against them in the international community.
Other officials went as far as to accuse the US of trying to make a deal, even a "bad" one, specifically to avoid an Israeli attack. Israeli officials have insisted repeatedly that they "reject" any deal and wouldn't feel bound by it.