The latest in a long line of comments insisting that the imminent collapse of Israel-Palestinian peace talks isn't his fault, Prime Minister Benjamin Netanyahu angrily condemned the Palestinians as well as the international community for "pampering" them so.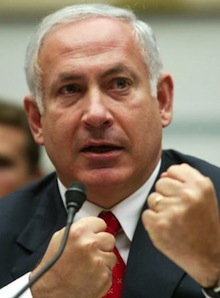 Netanyahu insisted it was unacceptable for the international community to keep criticizing his government's plans to demolish Palestinian homes and replace them with more Jewish settlements, insisting that they should focus on criticizing the Palestinians instead.
"It cannot be that the Palestinians are forever pampered by the international community," Netanyahu insisted, saying it was time to demand the Palestinians start making some real concessions to their occupiers.
Netanyahu wants a major crackdown on "incitement," a catch-all which encompasses most official criticism of Israeli settlement policy and the past destruction of Palestinian villages.