Secretary of State John Kerry's latest visit to Israel is being couched as an attempt to kickstart a virtually stalled peace process, trying to keep the Palestinians from abandoning the process outright after repeated Israeli settlement expansions, destruction of Palestinian homes and reports that Israel is dictating a border based on the West Bank wall.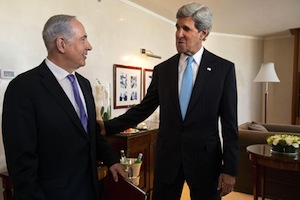 Prime Minister Benjamin Netanyahu seems to be set for this collapse of talks at this point, and is instead trying to forward the narrative that it's going to be all the Palestinians' fault, despite how totally reasonably he believes he's being.
Kerry, for his part, criticized Israel's settlements, insisting that they are "illegitimate," and said there was never any deal forcing the Palestinians to endorse the settlements as a term for the talks.
The rumored deal was for a one-off 1,000 settlement unit expansion setting the stage for an unofficial freeze, but Israel has repeatedly expanded settlements by many thousands of units since then, nominally to placate far-right Israeli MPs who oppose the peace talks.
Last 5 posts by Jason Ditz