Another clash between Islamist and secular Syrian rebels took place today along the Turkish border, when fighters from al-Qaeda in Iraq (AQI) attacked the town of Azaz, ousting the Free Syrian Army (FSA) from the area.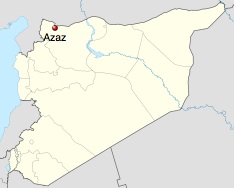 Reports say that the fighting began when AQI fighters arrived in town, announcing their intentions to capture a German doctor working as a volunteer, and the FSA refused to hand him over. Five FSA fighters were killed.
The FSA and other secular factions have regularly come into conflict with al-Qaeda factions in recent months, and today's fight is just the latest instance of the two sides being on the brink of violence at any given time.
The attack on Azaz might be part of a broader effort by al-Qaeda to secure border crossings into Turkey, as the town lies just outside of the major crossing north of Aleppo. Much of the fighting by AQI and other jihadist blocks with secular rebels has concentrated on taking out border regions.