The Egypt junta's last two crackdowns on sit-in demonstrations in Cairo ended identically, with a significant percentage of the protesters dead and a solid majority wounded.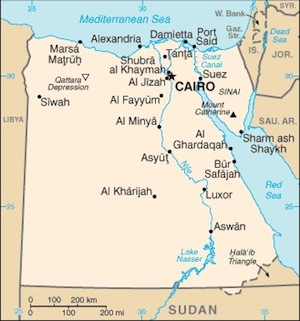 That inability to disperse protests in any way but mass-murder is seen as a major liability for the junta at this point, and promises of crackdowns on two camps today never came, with analysts saying the many thousands who turned out would've made such a crackdown prohibitively bloody, and was likely to spark an international backlash.
Egypt's military has gotten away with last month's coup more or less scot-free, with the US government and others eagerly backing the new military regime after not particularly liking the government Egyptians elected in last year's historic votes. Cynically backing a coup as "democratic reform" isn't going to be sustainable for many of those countries, however, if the military's massacres continue.
Officials say that the crackdown wasn't cancelled but merely postponed, though they provided no indication when they might resume the plan. Junta leaders had previously ordered police to use "any means necessary" to force anti-coup demonstrators off the streets, insisting they were "terrorists" and were also disrupting traffic.