After a solid week of shrugging off the Egyptian military coup d'etat and mass arrest of ruling party officials, the US State Department is finally on the record as saying they "agree" with other nations' calls for President Mohamed Morsi to be released from military detention.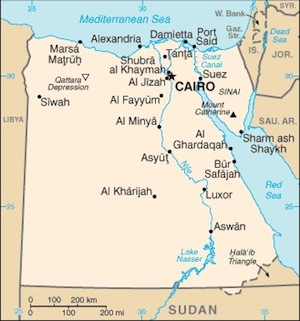 That seems unlikely though, as the military appears to be poised to push through a preposterous allegation of "colluding with foreign groups" related to Morsi's escape from detention in the waning days of Hosni Mubarak's dictatorship.
Morsi was one of dozens of political prisoners captured by the Mubarak regime in January 2011, and he and others escaped after a clash between the prison guards and what officials at the time dubbed "armed gangs."
Now the military is saying those armed gangs were secretly Hamas, and potentially also Hezbollah, and that the jailbreak "violated the sovereignty of the Egyptian state." Morsi's role in this, as a political prisoner who left the prison during the revolution and then two and a half years later found himself detained by the military again, could set the stage for a long detention.
Last 5 posts by Jason Ditz