Just one day after fleeing the court and starting a siege at his country home outside of Islamabad, former Pakistani junta leader Pervez Musharraf has been formally arrested today and taken to a police "guest house" for the next two days pending the start of his trial.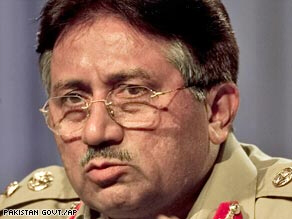 After the two days, Musharraf is scheduled to appear in an anti-terrorism court on charges of extrajudicial detention of judges during his 2007 imposition of "emergency rule." He also faces other charges related to the deaths of political rivals.
Musharraf shuttered the Supreme Court and arrested the judges in 2007, setting the stage for The Long March of 2009, when massive public protests broke out against the Zardari government for reneging on a promise to reinstate Chief Justice Ifthkar Chaudhry. After the protests, the judges were eventually reinstated.
After the elections of 2008, Musharraf fled into exile. He returned earlier this year in hopes of reclaiming power in the upcoming elections, but instead faces significant charges related to his past regime.
Last 5 posts by Jason Ditz