Former junta leader Pervez Musharraf saw his bailed revoked today by the Pakistani high courts, and instead of submitting to arrest he and his private security detail forced their way out of the court, the aging Musharraf shuffling to a black SUV as lawyers mocked him.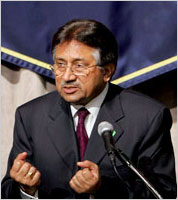 The SUV sped away, taking Musharraf to his luxury villa on the outskirts of Islamabad, setting the stage for a possible siege as hundreds of Pakistani police surrounded the outpost.
Instead of forcing their way in, however, the Pakistani government has decided to simply declare his villa a jail in itself, and placed Musharraf under house arrest therein, with security forces making sure he can't leave until his trials.
Musharraf seized power in a 1999 coup d'etat, and ruled until 2008, when he fled into exile. Musharraf returned this year hoping to reclaim power in an election, but public ambivalence about his candidacy and a long list of past crimes have kept him from running.
Instead, Musharraf is facing at least three charges, two related to the deaths of political opponents and a third relating to his ordering of the arrests of a large number of judges seen as unfriendly to his regime. Efforts have also been made to charge him with treason for the coup, but so far that hasn't been formalized as a charge against him.
Last 5 posts by Jason Ditz