In South Korea again today to "warn" North Korea against launching a missile test, Secretary of State John Kerry insisted that North Korea is not, and will never be, officially recognized as a "nuclear power."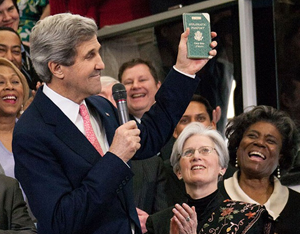 "We are all united in the fact that North Korea will not be accepted as a nuclear power," Kerry added. Since North Korea has conducted multiple successful nuclear test explosions, one would figure that ship had already sailed.
Not from the Obama Administration's perspective however, and indeed the determination to "never accept" North Korea's capabilities is leading them to disavow a DIA report from yesterday that North Korea "probably" has nuclear warhead capability already.
"We do not operate under the assumption that they have that fully tested, available capacity," Kerry said, though whether this is their actual estimate or simply part of the "not accepting" thing is unclear.
Last 5 posts by Jason Ditz