Lebanese Prime Minister Najib Mikati has announced his resignation today after the Hezbollah-dominated cabinet continued to block his attempts to set up a supervisory body to prepare for the next election.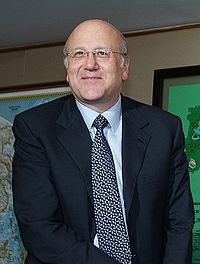 Much of the Hezbollah-led government has resisted calls from the opposition to agree on specifics for the new election law, and though a PM resignation usually precipitates early elections it might actually delay them in this case, as the two sides continue to bicker on the specifics and nothing gets done.
Only Monday Mikati had expressed confidence that a deal on the elections was close, and had even been quoted by some local media outlets as saying the deal was effectively completed. It is unclear exactly what changed between then and now.
Mikati formed his government in January of 2011, after the March 14 bloc of Saad Hariri lost its majority. He has urged both March 14 and his own March 8 bloc to agree to a unity government for the lead-up to the next election, saying it is vital for the two blocs to end the harsh rhetoric in the face of the "regional fires," likely referring to a Syrian Civil War that is increasingly being fought in Lebanese border towns as well. So far, the two blocs seem far apart, and such a deal would be hard to envision, even for a brief caretaker government.
Last 5 posts by Jason Ditz