The Balochistan provincial capital of Quetta is still in a state of shock today, after massive twin bombings at a pool hall left 125 dead and an estimated 200 others wounded in a Shi'ite neighborhood.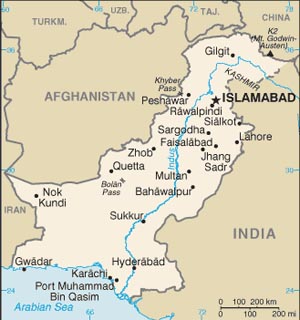 The Lashkar-e Jhangvi (LeJ) is the latest to the table claiming responsibility for the attacks today, and this might well make sense, as the group has been behind a number of attacks on Shi'ites, particularly in Balochistan, in recent years. The LeJ was founded in 1996 and named after Haq Jhangvi, a Sunni cleric who spent his career railing against Shi'ites and was eventually assassinated by a Shi'ite faction.
But they aren't the only ones claiming credit, as the United Baluch Army also took credit yesterday, almost immediately after the attack happened. The group is one of several secessionist factions fighting in Balochistan.
The Pakistani government has responded to the attacks by announcing that the paramilitary Frontier Corps is being given full police powers in the city, including authorization to carry out any search operations and detentions they please. The FC's history of heavy-handedness in Balochistan could provoke more violence from secessionist groups, particularly with many still seething at their Christmas attacks.
Last 5 posts by Jason Ditz