Syrian rebels are reporting that they have overrun the Taftanaz military airbase, the largest single airbase in rebel hands so far, after a 10-day battle. Since the fall of the airport earlier today, locals report air strikes have hit the base repeatedly.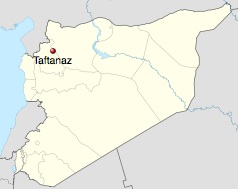 Taftanaz, in the Idlib Province, has been repeatedly contested by rebel factions, and was the center of a major multi-day battle leading up to the April UN-brokered ceasefire. The military retained it at the time, but this time seems to have been overrun.
The loss of the base leaves the regime with limited access to attack helicopters in the northwestern portion of the nation, though long-range warplanes continue to fly into the region from the surrounding area.
Some of the helicopters at the base were destroyed in the rebel offensive, though reportedly most of them were evacuated before the base fell. Rebel fighters, particularly the al-Nusra Front, reportedly seized some ground vehicles in the base's capture.
Last 5 posts by Jason Ditz