As far as the French government is concerned, regime change came to Syria today, as President Francois Hollande announced that France will recognize the Syrian National Coalition of Opposition and Revolutionary Forces (CORF) as the "provisional government of a Democratic Syria."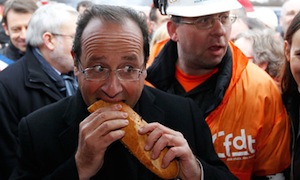 CORF announced its formation yesterday as the umbrella group unifying all rebel factions in Syria, though it appears to be made up only of exile factions and apart from declaring themselves as the leaders of all rebels they don't seem to have done much to court the rebel fighters.
Hollande went on to say that as the "legitimate government of Syria," the question of sending weapons to the rebels would be looked at more closely, and he said he expects other nations to also make such considerations.
If CORF can start getting weapons, that could make them a lot more relevant to fighters on the ground in Syria, as the flow of weaponry through Turkey into Syria has been a major way for "leadership factions" to pick and choose favorites and buy the loyalty of militias.
France has been particularly gung-ho about threatening to send weapons to Syria, suggesting it was open to sending "anti-aircraft guns" to the Free Syrian Army (FSA) shortly after the group announced its intention to start attacking civilian airliners. So far, however, they insist aid has strictly been in the form of "non-weapon" supplies.
Last 5 posts by Jason Ditz