Libya's state media is reporting that at least 22 members of the nominally pro-government Misrata militia have been killed in the latest failed attempt to invade the Libyan town of Bani Walid, with reports of continued sporadic gunfire and more offensives planned.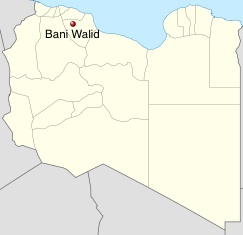 The latest five-day offensive is just one of a long line of attacks by various militias, usually the Misrata militia, against the town. The most recent dispute is related to the death of a militia member who was arrested by the local forces in the town on suspicion of spying on security installations.
Bani Walid is under the control of the Warfallah Elders Council (WEC), one of the last groups still flying the flag of Gadhafi-era Libya. This has led the various militias looking to sack the town to call them "Gadhafi remnants," though the WEC actually took over the city well after Gadhafi's ouster, bolstered by local anger at occupying militias from the surrounding areas.
The offensives have forced hundreds of civilians, as well as foreign workers from Egypt, to flee the outskirts of the town to avoid the fighting. The difficulty of fleeing towns in Libya, where local affiliation is everything, is that few places are liable to accept the refugees, and they are liable to come under attack simply for being from a town that has become synonymous with resistance to the new NATO-backed regime.
Last 5 posts by Jason Ditz