Syrian military attempts to reclaim the strategically important city of Maaret al-Numan ended in tragedy today when the airstrikes against the rebel held city ended up killing not only rebels, but civilians as well, including children.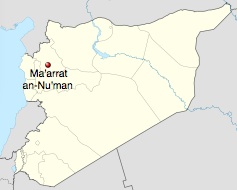 The strikes killed 44 people overall, and while the split of rebels and civilians is not apparent yet, videos showed children among the slain in the aftermath of the attack. The toll may rise further as residents continue to dig through the rubble.
Maaret al-Numan is considered a vital town for the regime to reclaim, as it lies on the highway linking the capital city of Damascus with the industrial city of Aleppo, which is currently being contested. The loss of the town means reinforcements can no longer travel along the highway from Damascus, but must find alternate routes.
Residents say Maaret al-Numan has come under near constant bombardment since it fell last week, with warplanes regularly overhead. This is the first time, however, that such a number of civilians were reported slain.
Last 5 posts by Jason Ditz