Kicking off the last Knesset session before it was dissolved today to set the stage for a new election, Israeli Prime Minister Benjamin Netanyahu was campaigning on his pet issue of war with Iran, insisting he had added major new "capabilities to act against Iran" to Israel's arsenal during his current term in office.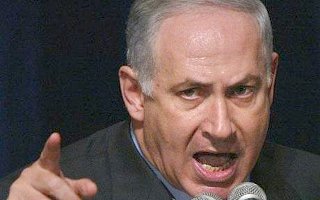 Early polls show a massive lead for Netanyahu's Likud Party, and he sought to center the campaign on the issue of him versus parties that are less hawkish, insisting anyone who doesn't believe Iran is the greatest threat ever is "not worthy of leading Israel for even one day."
Though Netanyahu has insisted that his decision to disband the government was aimed at the inability to agree on a budget, many also see the move as an effort to shore up the far-right coalition's hawkish elements ahead of a war which he now says is likely to come in the spring.
Top Labor Party official and current Israeli President Shimon Peres also insisted that Iran is a "threat to the entire world,"  though the party's current leadership, including Shelly Yachimovich, have been extremely critical of Netanyahu's hawkish position on Iran.
Last 5 posts by Jason Ditz