Early in September, with talks of a war with Iran picking up steam, Israeli Prime Minister Benjamin Netanyahu cancelled security cabinet meetings, claiming he didn't trust his own cabinet. It was seen as a fit of paranoia, and also the beginning of the current row between Netanyahu and Defense Minister Ehud Barak.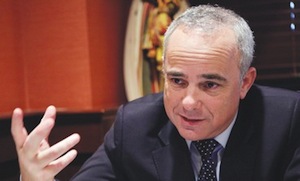 But today reports from Kuwait's al-Jarida citing Shin Bet suggest that Netanyahu wasn't paranoid, that there really was a leaker in his cabinet, but it wasn't, as he apparently believed, Ehud Barak. Instead it was a member of his own Likud Party, Finance Minister Yuval Steinitz.
The report, which Shin Bet later denied, claims that Steinitz leaked classified documents on Iran specifically to start a row between Netanyahu and Barak, who at the time was trying to negotiate to join the Likud Party as a top list member for the next election.
The tactic, if true, worked like a charm. Netanyahu has called for new elections, and Barak has not joined Likud after talks collapsed. Barak's Independence Party is seen unlikely to win more than a single seat in the next vote, and would be politically irrelevant.
Last 5 posts by Jason Ditz