Egyptian troops raided the village of al-Goura, just 10 miles off the Israeli border today, killing six "militants" in the process and continuing what has been a major move against insurgent factions in the Sinai Peninsula.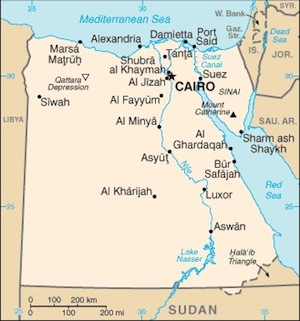 The latest round of violence initially kicked off with a group of militants dressed as Bedouins attacking a police station, stealing Army vehicles and attempting to infiltrate Israel. Though Israeli officials were quick to blame this on the Gaza Strip, there doesn't appear to be any evidence to support that.
"Neither the Palestinian nor the Egyptian security services have proof that any party in Gaza supported or executed the attack," noted a top Hamas official in Gaza. Egypt hasn't directly accused Palestinians in the attack, but did announce a move to destroy smuggling tunnels from Sinai to Gaza as part of a security crackdown in the region.
The new move into Sinai comes after decades of Israel refusing to allow much in the way of security forces into the peninsula (under treaty all Egyptian deployments there must be Israeli approved), and the Obama Administration is looking to get in on the offensive, offering a wide array of possible Pentagon interventions to impose surveillance on the region.
Last 5 posts by Jason Ditz