The political instability that was produced in Mali after NATO's intervention in Libya last year is reportedly being "hijacked by better-armed Islamists" from abroad, which some claim is a model safe haven for militancy.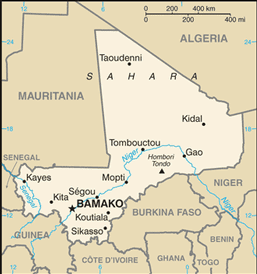 "We are in an early stage of Afghanistan and Somalia. There is no doubt in my mind," said Ahmedou Ould-Abdallah, a Mauritanian diplomat who has been a United Nations envoy in both west Africa and Somalia.
Afghanistan and Somalia are not really "safe havens" as much as they are havens of war and poverty as a result of U.S. interventionism. Washington's policies in the 1980s in Afghanistan against the Soviets and in Somalia in the 1990s had a big hand in bringing extremist militants to those areas. And that appears to have happened again in Mali.
In May, Islamic militants that were reported to be an offshoot of al-Qaeda swarmed into Mali following the unrest and desecrated a holy tomb in Timbuktu.
The military coup that took place in Mali in March is a monument to the consequences of U.S. interventionism which resulted in a power vacuum and political and military instability. Rebel troops seized power and toppled the government in a bid to oust democratically elected President Amadou Toumani Toure who they claim insufficiently supported the military in a fight against Tuareg militants waging an insurgency in the north.
Libyan leader Muammar Gadhafi had hired and armed many Tuareg fighters to defend him against the NATO-backed rebellion in Libya, and they returned to Mali at the Libyan war's end stronger and more determined than ever, leading to a coup headed by Captain Amadou Sanogo, who was trained by the U.S. military.
As with previous U.S. interventions of late, militants allying themselves with the ideas of al-Qaeda seem to crop up only after the U.S. destabilizes the country.
Last 5 posts by John Glaser