Islamic militants that are reported to be an offshoot of al-Qaeda have swarmed into Mali following the unrest in recent months and on Saturday desecrated a holy tomb in Timbuktu.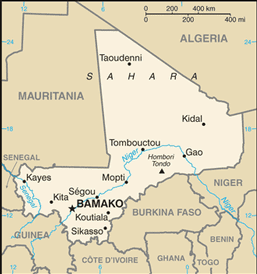 The tomb, a UNESCO World Heritage site, was attacked days after elite soldiers failed to unseat the group of rogue coup leaders who took power by force in March. Authorities have struggled to assert control throughout the country ever since.
"Today it is Al-Qaeda in the Islamic Maghreb which occupies a dominant position in the three areas of northern Mali thanks to its alliance with the Islamic Ansar Dine group and the influx of Tunisian, Libyan and Moroccan fighters," a Mauritanian source told AFP.
A resident of Timbuktu said that AQIM fighters are coming in from other countries of the region, distributing food to the inhabitants and claiming they had come to wage jihad.
The military coup that took place in Mali is a monument to the consequences of U.S. interventionism and the resulting power vacuum and instability has caused mayhem. Rebel troops seized power and toppled the government in a bid to oust democratically elected President Amadou Toumani Toure who they claim insufficiently supported the military in a fight against Tuareg militants waging an insurgency in the north.
Libyan leader Muammar Gadhafi had hired and armed many Tuareg fighters to defend him against the NATO-backed rebellion in Libya, and they returned to Mali at the Libyan war's end stronger and more determined than ever, leading to a coup headed by Captain Amadou Sanogo, who was trained by the U.S. military.
As with previous U.S. interventions of late, militants allying themselves with the ideas of al-Qaeda seem to crop up only after the U.S. destabilizes the country.
Last 5 posts by John Glaser