Egyptian police officials are reporting that dozens of heavy weapons, including surface-to-air missiles and some 10,000 artillery shells, have been seized from weapons smugglers, who brought the cache into the country from neighboring Libya.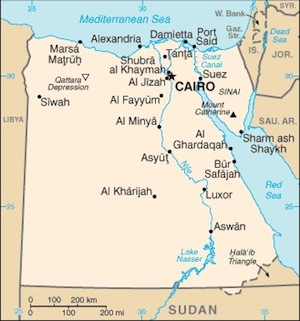 The smugglers arrested were from the Sinai Peninsula, and officials say the smugglers told them they planned to use them against "army and police forces securing the borders."
Weapons from Libya have been showing up in Sinai for months now, and some of them have been used in attacks across the border into Israel. The NATO-backed military ouster of Moammar Gadhafi led to widespread looting in Tripoli, and has left the entire region awash in smuggled weapons.
Even a large cache like the one seized in Egypt is a drop in the bucket when compared to the sheer volume of high-end weaponry that went missing in the aftermath of the Libyan Civil War. Already Tuareg secessionists managed to get ahold of enough weapons to trounce the Malian government and establish a de facto independent state in the north of that nation.
Egypt's statements suggest the junta is trying to use the seizure to defend their unpopular security measures. Given the number of terror groups across northern Africa that now have access to such weaponry, this is likely to remain a threat, and one not easily tackled, for years to come.
Last 5 posts by Jason Ditz