The DNC has released a statement today angrily condemning former Mass. Governor Mitt Romney for suggesting that President Obama should make public transcripts available of all his conversations with world leaders, saying it proved "naiveté" to suggest that the public should be kept apprised of the content of the meetings.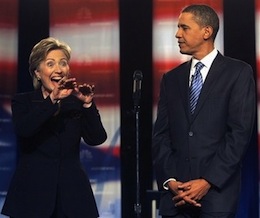 Romney's call came after President Obama was caught in a hot mic moment pleading with Russian President Dmitry Medvedev not to make the missile defense systems an issue until after the election, appearing to imply he would cut a better deal once his reelection was no longer at stake.
The DNC statement went on to say that it was ridiculous to suggest that the content of Obama's talks with Israeli officials, for instance, should be made public, saying it would "tip our hand" to Iran, as many of the talks center on timing for potential attacks on Iran.
"Our friends around the world need to trust that they can speak to the President on the United States in confidence," the statement warned. Needless to say, transcripts of what President Obama is saying will not be made public.
Last 5 posts by Jason Ditz