At least 10 civilians have been killed and a number of others wounded overnight after Kenyan warplanes attacked the town of Hosingow in southern Somalia. The town is near the Kenyan border, and the military confirmed the attack.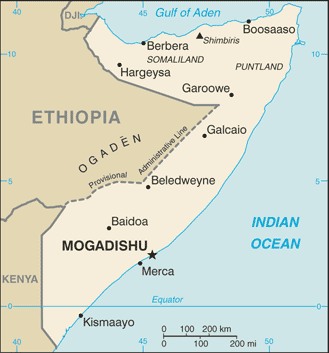 The attack, but not the toll. Kenya's Army statement said the attack killed "17 al-Shabaab fighters" and that there were no civilian casualties. Witnesses however say that the casualties were all civilian and included children. Al-Shabaab denied losing any fighters to the attack.
"The cowardly enemy has targeted civilians in Hosingow and killed more than 10 innocent civilians," reported one of the regional Sheikhs, and al-Shabaab promised to take revenge for the attack.
Witnesses say the bombs hit a street in the town, but that some of the bombs also hit some nearby homes, which is where the casualties occurred. The identities of the victims have not been made public yet.
Last 5 posts by Jason Ditz