An Egyptian military court today sentenced Coptic blogger Michael Nabil to two years in prison and a fine of $33 for comments made on his blog back in March which were critical of the military's treatment of detainees.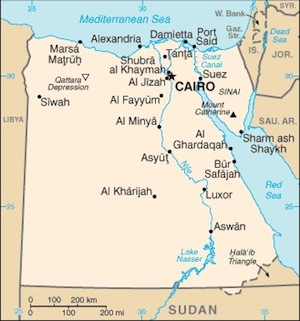 The sentence came after a retrial, as the previous ruling was for three years in prison. In March, Nabil wrote an article called "the army and the people were not united" which criticized the military junta for claiming it was backing the pro-democracy revolution while continually detaining dissidents.
In addition, Nabil was the founder of the "no to compulsory conscription" Facebook page, and was a former draft resister himself on pacifist grounds. State media in Egypt has condemned him as a "Zionist agent" for criticizing the draft, and officials today said his comments went outside of the bounds of "opinion" by challenging the military's behavior.
Nabil was one of a large number of detainees rounded up by the junta in the wake of Hosni Mubarak's ouster, usually on charges of criticizing the new "interim" regime. The mass detentions are just one of many causes which have brought protesters back to Tahrir Square, this time with an aim at actually replacing the junta with an elected civilian government.
Last 5 posts by Jason Ditz