Civilians poured out of the southern Somali town of Afgoye today following reports that the town was attacked by a number of missiles strikes. The strikes appeared to target former government buildings which have been used by the al-Shabaab faction.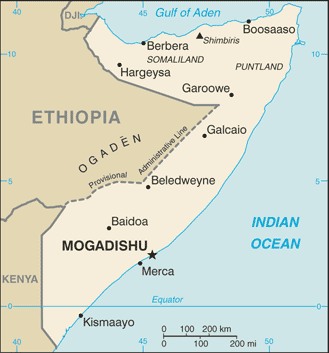 The missiles were fired from a warship off the coast, and it is so far unclear which nation fired them. Kenya is invading the region around Afgoye, but the warships in the region mostly belong to the United States and France, who have both been backing the Kenyan invasion.
Residents reported a flurry of activity ahead of the attacks, saying they believed al-Shabaab was holding some sort of meeting at a base in the town. Al-Shabaab insists there were no casualties in the missile strikes.
Kenya invaded southern Somalia last month, a move it admits it was planning for "years" beforehand. With concerns already mounting that Kenya has no real exit strategy, they have been pressing Western nations for support on the conflict.
Last 5 posts by Jason Ditz