In early February the US ruled out ever recognizing the Muslim Brotherhood, a political party in Egypt which seems to be destined for a significant showing in the post-junta free elections. With US officials constantly downplaying the group's influence, there was a growing possibility that the Muslim Brotherhood could find itself a key portion of an Egyptian government and having no US ties.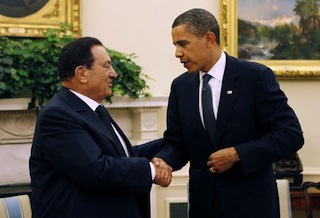 But the US has backtracked once again, saying it will formally recognize the organization. Secretary of State Hillary Clinton added that the US would welcome a serious dialogue with them, though such a dialogue has not yet happened.
US officials termed the change a recognition of the "changing" political landscape in Egypt, and said the US was determined to maintain ties with all parties competing for parliament in the promised elections.
The Muslim Brotherhood apparnetly was the last to learn of this decision, with their spokesman saying they had only heard about the US "interest" in ties because they were reported in the media. They added that they would welcome a dialogue so long as the US was serious in respecting the Egyptian voters' choices in the vote.
Last 5 posts by Jason Ditz