The massive protests on the tiny island of Bahrain have been met with violence before, but the level of violence is about to be taken to a whole new level amid reports that Saudi Arabian troops are going to invade the country as soon as Monday, at the invitation of the Bahraini Crown Prince.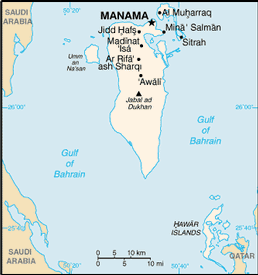 The protests in Bahrain have broken down largely along sectarian lines, with the nation's Shi'ite majority complaining of discrimination by the nation's Sunni royal family, and indeed has sparked similar (albeit small) protests among the Shi'ites along neighboring Saudi Arabia's northeast coast.
The Bahraini protesters initially wanted reforms, but after violent crackdowns, they began demanding the ouster of the royal family entirely and its replacement with a democracy. The Crown Prince, Salman bin Hamad al-Khalifa, insisted today that the regime could no long accept the protests continuing.
"The right to security and safety is above all else," insisted the prince, and by this of course he meant the security of the regime, because surely when Saudi troops are marching across the bridge into the nation, very few outside of the ruling elite will be made any safer.