With French officials already facing massive fallout over the revelations that Foreign Minister Michele Alliot-Marie had taken a vacation in Tunisia as the violent crackdown against protesters was beginning, officials might have taken solace in the belief things couldn't get any worse.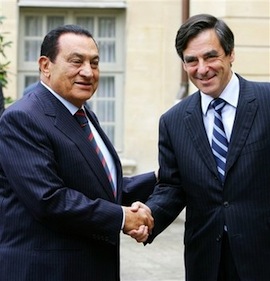 But it seems that they could, and now all eyes are on Prime Minister Francois Fillon, who it has been revealed spent his New Year's holiday in Egypt, a vacation paid for entirely by Egyptian dictator Hosni Mubarak.
Fillon admitted that he and his family were treated to an all-expenses paid trip to the Nile resort of Aswan, including use of an Egyptian government plane for sightseeing, and that Mubarak paid for everything. He insists that since the trip came weeks before the uprising broke out it was not that big of a deal.
Yet the French public is increasingly concerned by the embarrassingly close ties their government appears to have forged with some of the worst of the worst dictators across Northern Africa, and this admission is likely to add even more fuel to the fire.