Updated 2/2/2011 11:35 AM
Speaking in the wake of the Hosni Mubarak speech, President Obama sounded a familiar refrain, praising the reasonableness of the long-standing Egyptian dictator, giving lip-service to an "orderly transition" toward reforms, and suggesting Egyptians have at least some rights.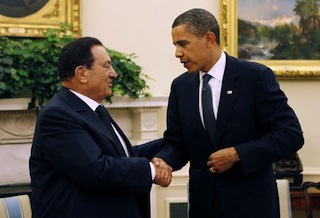 Amongst those rights, which President Obama detailed, were the rights to assembly, freedom of speech, and freedom to access information. Notably absent was the right to elect their leaders, something many in the Obama Administration have angrily opposed.
Instead Obama said that Mubarak, like all rulers, truly gets it, insisting "I spoke directly to President Mubarak. He recognizes that the status quo is not sustainable and that a change must take place. Indeed, all of us who are privileged to serve in positions of political power do so at the will of our people."
But President Obama did have some praise for the Egyptian military lauding them for the comparative success they've had in managing to not massacre civilians in the streets of Cairo. Despite repeated exhortations to crush the opposition, notably from US pundits worried that a free Egypt was a "threat," Egypt's military refused to open fire on the protesters.
At the same time President Obama's grudging acceptance that Egyptians are going to eventually have some sort of election, and calls for a "transition" before this, will likely fuel more anger in Egypt, where it is believed that the US, with its massive funding of Mubarak, is simply stalling and hoping that the whole matter will simply be forgotten.
Last 5 posts by Jason Ditz