In a move whose timing is surprising many, Iranian President Mahmoud Ahmadinejad has dismissed Foreign Minister Manouecher Mottaki from his position, and interestingly enough did so while Mottaki was overseas on an official state visit to Senegal.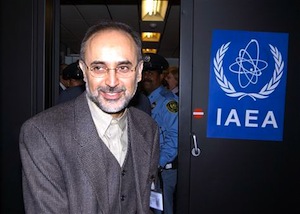 The reason for Mottaki's sacking was unclear, and the Iranian state media provided no insight beyond Ahmadinejad thanking Mottaki for his five years of service in the role, but some analysts believe it is an attempt by Ahmadinejad to install more closely loyal people in higher ranking positions.
To that end, Iran's Atomic Energy Organization (AEOI) chief Ali Akbar Salehi has been announced as the acting Foreign Minister. It is unclear so far if he will be presented to Iran's parliament as a permanent replacement.
Salehi's selection is also something of a surprise as he is a career academic with a physics doctorate from MIT, and has only previously held positions as a scientific advisor, beyond his year and a half at the head of the AEOI.
Last 5 posts by Jason Ditz