The Obama Administration revealed today that they had issued official "warnings" to the Lebanese government over their decision to allow Iranian President Mahmoud Ahmadinejad to visit the country next week.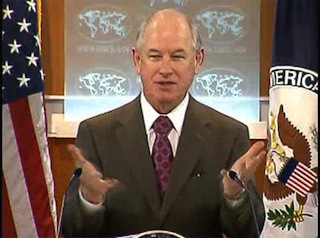 "We expressed our concern about it given that Iran, through its association with groups like Hezbollah, is actively undermining Lebanon's sovereignty," State Department spokesman P.J. Crowley insisted.
Hezbollah is part of one of the largest political blocs in Lebanon, which was narrowly defeated by a Sunni movement in last election after Vice President Joe Biden visited the country to warn them of "consequences" for electing Hezbollah's bloc.
Both the US and Iran have designs on closer ties to Lebanon's military, with Iran jumping in with an offer to replace the military aid the United States withdrew in early August. Ahmadinejad is expected to spend two days in Lebanon, including visiting a new Shi'ite mosque funded in part by Iran. The mosque is said to be a smaller model of the al-Aqsa mosque in East Jerusalem.
Last 5 posts by Jason Ditz