At a news conference today, Hezbollah leader Hassan Nasrallah presented evidence to back up his claims that Israel was responsible for or at least involved in the assassination of former Lebanese Prime Minister Rafik Hariri, and that they tried to blame Hezbollah and later Syria for the killing.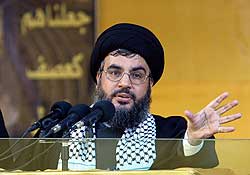 Nasrallah showed footage apparently intercepted from a number of Israeli spy planes which had been spying on Hariri in the lead-up to his assassination, as well as naming a Lebanese man he insisted was working as an Israeli spy and was at the site of the assassination the day before.
Though Nasrallah conceded that the evidence was not incontrovertible proof but insisted it was "indicative" of Israeli involvement. Nasrallah's conference was broadcast to journalists from an undisclosed location.
The United Nations is expected to attempt to indict a number of Lebanese citizens, including reportedly a number of Hezbollah members in Hariri's assassination. Officials say the indictments could come as soon as next month.
Last 5 posts by Jason Ditz