The Obama Administration is openly declining comment on the virtually inexplicable level of rancor regarding the so-called "Ground Zero Mosque," an attempt to build an Islamic cultural center two blocks from the site of the 9/11 attack.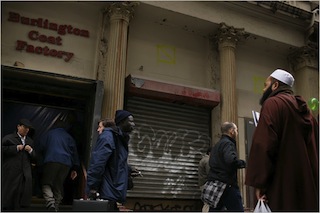 "This is rightly a matter for New York City and the local community to decide," White House press secretary Robert Gibbs insisted. A number of high profile figures, including Sen. Joe Lieberman (I – CT) and former Alaska Governor Sarah Palin have come out in opposition to the building.
It has also produced a large number of protests among New Yorkers, who claim that the cultural center amounts to an "al-Qaeda victory shrine," though the group involved in the building insists their goal is to bring religious groups closer together.
Some locals are still attempting to stop the construction, though after failing to get a graffiti covered building, a former Burlington Coat Factory, "landmark status" there appear to be few other practical avenues to stop the construction.