As polls suggest the major Iraqi blocs are running neck-and-neck in the March 7 election, it seems that smaller parties will be able to command increased influence when they scramble to form a coalition government.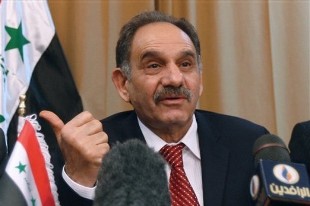 Banned INDF leader Saleh al-Mutlaq
It is perhaps not surprising, then, that the Iraqi National Dialogue Front (INDF), the Sunni secularist party whose leader Saleh al-Mutlaq was banned from running for reelection by the government, has abandoned its boycott call and says it will contest the vote after all.
Mutlaq, a key opposition figure and a close ally to former Prime Minister Ayad Allawi, was banned from running by the government over claims that he had previous ties with the banned Ba'athist Party.
The INDF has 11 seats in the legislature at the moment, making it the second largest Sunni bloc. But its appeal among secularists in Anbar Province has the party looking to make gains. Even if it merely retains the 11 seats, it could provide a boost to Allawi's Iraqi National List, which is its most natural coalition partner.
Last 5 posts by Jason Ditz