Israeli officials are riled up tonight after an offhand comment by US envoy George Mitchell in an interview with PBS mentioned that the US could hypothetically revoke loan guarantees to Israel if the nation refused to re-start negotiations with the Palestinian Authority.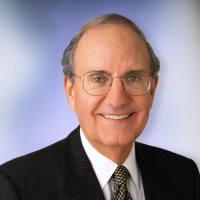 George Mitchell
Members of the ruling Likud Party vowed that Israel would not "give in to threats" while Prime Minister Benjamin Netanyahu declared that "everyone knows" the Palestinian Authority is to blame for the stalled peace process. One minister added that it was an empty threat.
Even US Senators John McCain (R – AZ) and Joe Lieberman (I – CT) condemned Mitchell's comment, saying that Congress would never allow the president to withhold any support for Israel under any circumstances.
Mitchell, for his part, quickly backpedaled, insisting that he didn't mean to suggest that revoking the loan guarantees was at all appropriate and that it was simply a response to an interviewer's question. A response which has stirred up a hornet's nest in Israel, where anything short of cheerful endorsement from the US is viewed as a matter of grave security for officials.
Last 5 posts by Jason Ditz