Between the failed Christmas lap bomber, the successful Jordanian triple agent bomber, and this week's CNAS report in which a top general described the intelligence effort in Afghanistan as "ignorant" and "disengaged," this has been a rough time for the assorted US spy agencies. And their chiefs too.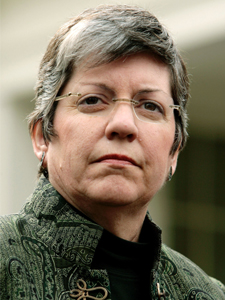 Janet Napolitano
With so many high profile disasters piling up at once, many are out for blood, and President Obama is said to be under growing pressure to stop simply expressing anger about the failures and actually do some firing of the people in charge.
Homeland Security Secretary Janet Napolitano, who embarrassingly declared "the system worked" after the lap bombing failed and angrily insisted the comment was misconstrued later has been seen as the most likely candidate for ouster.
Republicans have been harshly critical of Napolitano, and even some Democrats are now arguing that it is time for her to go. As the secretary in charge of overseeing the TSA, her days may well be numbered.
Last 5 posts by Jason Ditz