Following last night's drone attack on a North Waziristan tribesman's home, which killed at least four people, US drones launched a second attack on a car, also on the outskirts of Miramshah, killing at least three more.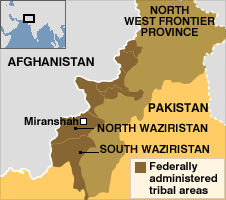 Officials say the identities of the seven people killed were unclear, but they said the three killed in the car were apparent militants, as other militants came to recover the bodies. The four in the house were called "suspects" by intelligence officials, but security officials said they had no evidence that they were involved in any wrongdoing.
The attacks raised the overall toll of drone attacks this week to 21, as a Monday drone attack against a compound belonging to the Haqqani family killed another 14 people and seriously wounded several others.
The US has been targeting the Haqqani network for a long time, and the group has been identified as the likely culprits behind this week's attack on a CIA compound in Khost Province, Afghanistan, which borders North Waziristan.
Last 5 posts by Jason Ditz