The Pakistani military seized another largely irrelevant village in the South Wazirsitan Agency today, and tore down the abandoned house they believe once belonged to former Tehreek-e Taliban Pakistan (TTP) leader Baitullah Mehsud, in what they claimed was an act of "symbolic revenge."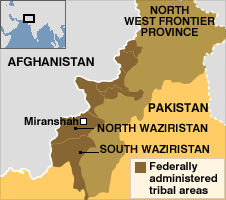 In the three weeks since launching its invasion of the region, the military appears to be spending an inordinate amount of time claiming symbolic victories by capturing tiny villages of dubious strategic value but with some connection to TTP leaders.
At the same time, the attack on the latest village appears to have encountered little to no resistance, pointing to what appears to be a strategy of avoiding unnecessary clashes by the TTP leadership.
Pakistani officials have claimed the offensive is going exceedingly well, and project victory in the next several weeks. At the same time, while the military has claimed a few hundred TTP members killed in its attacks (a matter hotly disputed by the TTP), they appear to have captured few is any figures in leadership positions, and with winter rapidly approaching it seems likely the war will end in a stalemate, at least until spring.
With the prospect of a long term conflict, aid agencies are pressing the military to allow safe access to the displaced. Though around 300,000 from the agency are believed to have fled the fighting, the Pakistani national government has made virtually no effort to provide for the displaced.
Last 5 posts by Jason Ditz