At least 25 people were killed today and over 80 were wounded in a string of coordinated bombings in the Iraqi city of Ramadi. The vast majority of the casualties were civilians, though the targets seem to have been based around the Anbar Provincial government headquarters.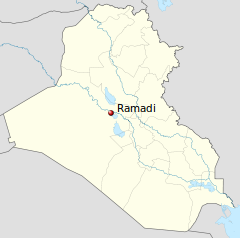 The bombings began in the parking lot outside the government headquarters. A second bombing happened just minutes later, after rescue workers had arrived. Finally a third bombing hit the hospital where the victims were taken.
Following the bombing, the Ramadi police imposed a city-wide curfew until further notice. Officials have also reportedly restricted the ability of journalists to cover the incident, and police have confiscated video footage of the aftermath.
So far no group has claimed responsibility for the attack though officials have, as usual, blamed al-Qaeda. Growing political infighting in the province has also led to speculation officials could have been behind it.
Last 5 posts by Jason Ditz