Last Updated 10/11 11:45 AM EST
Today's attack on the Pakistani Army's Headquarters in Rawalpindi appears to be more or less finished, with the military reportedly still conducting "mopping operations" inside the building where the day-long hostage stand-off took place.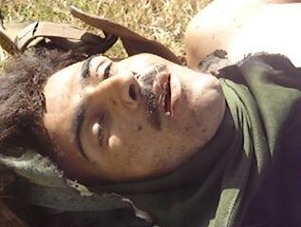 One of the slain attackers
The final toll, though very preliminary appears to be seven Pakistani soldiers slain, six during the initial attack and one hostage soldier during the military's "rescue" attempt that ended the siege. 11 militants have been reported killed, bringing the overall toll to 20. Two civilian hostages were also slain, and an unknown number of injuries have also been reported.
Though it was initially assumed that the attackers were from the South Waziristan-based core of the Tehreek-e Taliban Pakistan (TTP) which the military is planning to attack next week, the group claiming responsibility for the attack, the so-called "Amjad Farooqi Group," appears to be a Punjab-based auxiliary.
Pakistani forces have also raided a house in the capital city of Islamabad, just 5 km from the Rawalpindi base, in which officials say the attackers had been living for the past four months. The house's owner was captured and some documents were seized.
Last 5 posts by Jason Ditz