According to a copy of the testimony General Ray Odierno is poised to deliver to the House Armed Services Committee, the general is to reveal a planned troop cut of about 4,000 troops, minor compared to the nearly 130,000 troops that remain in the nation but one of the most significant troop cuts since President Obama took office.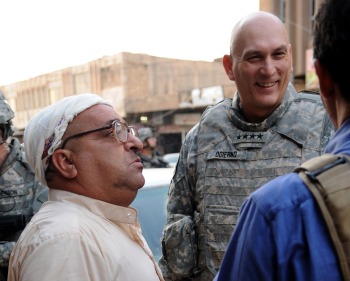 The revelation comes as something of a surprise, as only two weeks ago the Pentagon announced that it was adding 1,000 more troops to the conflict on the basis of a request from Gen. Odierno.
Perhaps more important than the minor troop cut however is that Gen. Odierno is to lay out a series of "looming problems" which he believes may stand in the way of the ostensible plan for a US pullout from Iraq by the end of 2011.
Among those problems is the massive series of bombings in Baghdad last month, which Odierno will refer to as a security lapse. He will also note that, over six years after the US occupation began, Iraqis still haven't agreed on a system of government which is universally acceptable, cautioning in particular over growing tensions between Sunnis and Shi'ites.
Last 5 posts by Jason Ditz