According to the Israeli military, the population of settlers in the West Bank passed 300,000 for the first time this year, and sits at 304,569 as of the end of June, an increase of 2.3% in the past six months. Usually growth rates are even higher in the second half of the year. The number does not include some 200,000 more settlers living in East Jerusalem.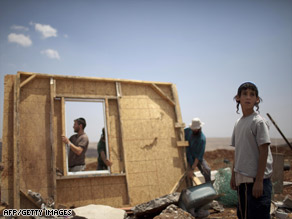 The announcement comes less than a week after a study by an Israeli think tank showed the heavy subsidies of the settlements by the national government were causing disproportionate increases in the populations of the outposts, at a time when Israel is under increasing pressure to halt their growth.
The Netanyahu government has resisted the calls however, and insists growth will continue. The settlers have considerable sway in Israel's right-wing government and today held a massive anti-US rally in Jerusalem condemning President Obama's criticism of the settlements.
The government has tried to salve international criticism with the promise to dismantle the smaller, illegal outposts in the West Bank, but over the past two days it is reported that 11 new outposts were set up by the militant "Youth for Israel" movement, which seemed to consist of little more than a handful of huts set up by teenagers. The Israeli military, however, declined to stop the construction of the new outposts.