Top Democratic Party campaign strategist James Carville has announced today that he is joining the advisory team of Afghan opposition candidate Ashraf Ghani, who aims to unseat President Hamid Karzai in the August Presidential election.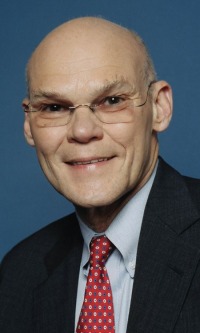 James Carville
Carville, who had most recently worked on Secretary of State Hillary Clinton's failed presidential campaign, insists he has joined the team as a private citizen, and the Obama Administration has denied having a preferred candidate in the election. Still, it has been no secret President Obama has been unhappy with Karzai since taking office, and Carville's involvement in the campaign is bound to raise questions.
Ghani was Afghanistan's Finance Minister between 2002 and 2004, but lived abroad between 1977 and the US invasion in late 2001. Ghani held American citizenship, but has had to renounce it to compete in the election. Carville has called Ghani's campaign "the most interesting project I have ever worked in my life."
That life covers a wide variety of campaigns both in the US and abroad. Carville worked on the campaigns of both former British Prime Minister Tony Blair and current Israeli Defense Minister Ehud Barak. He has also appeared in a myriad of television shows and movies.
President Karzai has had to contend with a growing rift with the US and international forces. Karzai has criticized them over massive civilian tolls in their various military operations, while they have blamed Karzai for the corrupt and largely ineffectual Afghan government. Carville says that Karzai is "increasingly unpopular" domestically, and that there is little confidence in his ability as a leader.