Senate Majority Leader Harry Reid has issued a letter to President Barack Obama urging him to reverse his course on Palestinian peace talks, to back off of his criticism of Israel and focus of pressuring the Palestinians instead.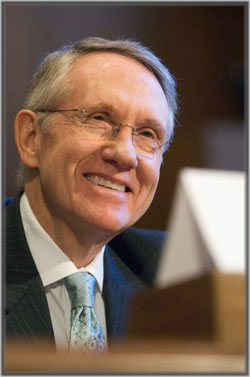 Senator Harry Reid
Obama has urged the Israeli government to accept a two-state solution to the decades-long conflict, and to end the expansion of settlements in the West Bank. Israel's right-wing government has refused to end the settlement expansion, and has said it would accept a Palestinian state under certain conditions.
Reid likewise appeared to take issue with the Obama Administration's comments that a resolution to the dispute with Iran would be more easily obtained if the Palestinian issue were resolved, instead warning the president not to let the peace process "take away from your commitment to deal with the ongoing threat from Iran." Reid insisted that rather, "resolving" Iran's nuclear program would facilitate the peace process.
Congressional Democrats have repeatedly condemned Obama for his willingness to publicly criticize Israel, and one Israeli Minister has proposed anti-US sanctions and a public effort by the Israeli government to punish Democrats in the upcoming mid-term elections for Obama's stance.