A Chinese Coast Guard vessel and a Philippine resupply boat collided near a disputed reef in the South China Sea as tensions in the waters between Beijing and Manila continue to rise.
Both sides blamed the other for what China described as a "minor collision." No injuries were reported in the incident, which took place near Second Thomas Shoal, part of the Spratly Islands, where the Philippines grounded a World War II-era warship in 1999 to assert its claims that Manila uses as a base of operations.
In a statement, the Chinese Coast Guard said the Philippine resupply boat "ignored repeated warnings and deliberately crossed the bow" of the Chinese vessel "in an unprofessional and dangerous manner." The statement also claimed a Philippine Coast Guard vessel later rammed into a Chinese fishing boat in the area.
"The behavior of the Philippine side is a serious violation of the international rules on collision avoidance at sea and threatens the safety of navigation, while our operation is professional, legitimate and lawful, and the responsibility lies entirely with the Philippine side," the Chinese Coast Guard said, according to The South China Morning Post.
The Philippine National Security Council put out a statement blaming the Chinese side for the collision. The statement said the Philippine vessel "was bumped by a Chinese Maritime Militia vessel" about 6.4 nautical miles from Second Thomas Shoal and condemned China's actions. The statement said another Philippine vessel was able to resupply the grounded ship.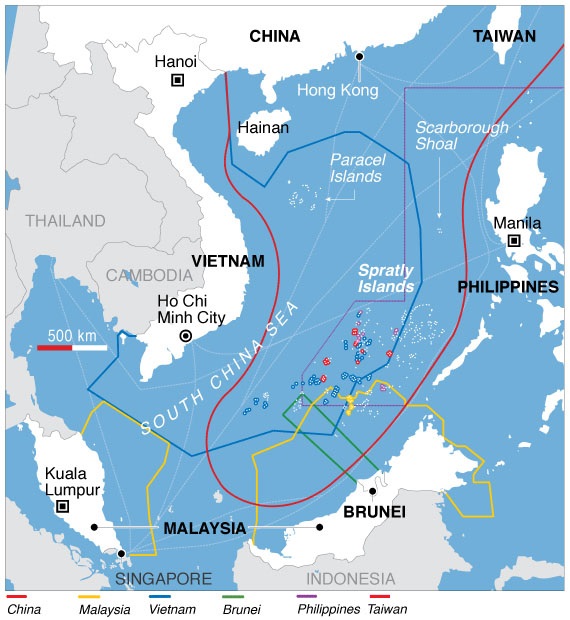 The incident is the latest in a series of confrontations between China and the Philippines in the South China Sea. China has stepped up its efforts to block Philippine resupplies on Second Thomas Shoal, and the Philippine government of President Ferdinand Marcos Jr. has been more aggressive in its efforts to push back on China's claims in the region, with full support from the US.
The US has repeatedly stated that the US-Philippine Mutual Defense Treaty applies to Philippine vessels in the South China Sea, a commitment that was formalized earlier this year, meaning the US has pledged to intervene if Philippine boats come under fire. The US commitment has turned the South China Sea into another potential flashpoint for a war between the US and China.
The US ambassador to the Philippines, MaryKay Carlson, blamed China for Sunday's collision, saying Beijing was "putting the lives of Filipino service members at risk." She added that the US stands "with our friends, partners and allies in protecting sovereignty and in support of a Free and open Indo-Pacific."