US Africa Command (AFRICOM) said Sunday that it launched three airstrikes in Somalia and claimed the bombardment killed 10 al-Shabaab fighters.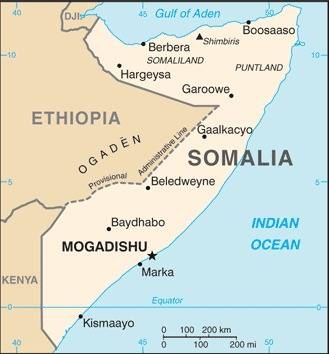 The command said the strikes were launched in a remote area about 65 miles north of Kismaayo, a port city in southern Somalia. AFRICOM said the strikes were conducted to support Somali government forces who were fighting al-Shabaab on the ground.
AFRICOM claimed that its "initial assessment" found no civilians were harmed, although the Pentagon is notorious for undercounting civilian casualties, especially in Somalia, where US operations are shrouded in secrecy.
The incident was the first airstrike AFRICOM reported in Somalia since one launched on June 1. However, it's not clear if the command is reporting every US airstrike in the country. According to the monitoring group Airwars, suspected US airstrikes hit al-Shabaab fighters in Somalia on June 11 and June 16.
The US escalated airstrikes in Somalia after President Biden ordered the deployment of up to 500 troops to the country in May 2022. The US-backed Mogadishu-based government launched an offensive against al-Shabaab in September of last year, leading to heavy fighting on the ground and more US airstrikes.
The US military hypes the threat of al-Shabaab due to its size and al-Qaeda affiliation, but it's widely believed the group is not a global threat. The group's first recorded attack was in 2007, and it wasn't until 2012 that al-Shabaab pledged loyalty to al-Qaeda after years of fighting the US and its proxies, including a US-backed Ethiopian invasion that was launched in 2006.