Mexican TV has reported that a militant affiliated with Mexico's Gulf Cartel was spotted carrying an advanced rocket launcher, the same type that the US has shipped thousands of to Ukraine.
Azucena Uresti, a news anchor for Milenio TV, identified the rocket launcher as a Raytheon-made Javelin anti-tank missile system, which the US has been providing Ukraine since 2018. Over 10,000 Javelins have been poured into Ukraine since Russia launched its invasion last year.
Some online observers have said that the launcher shown in the TV report looks more like a Swedish-made AT-4 anti-armor system, which the US has also shipped to Ukraine. The main difference between the two anti-tank weapons is that the Javelin fires a guided missile while an AT-4 munition is unguided, and the AT-4 is meant for just one use.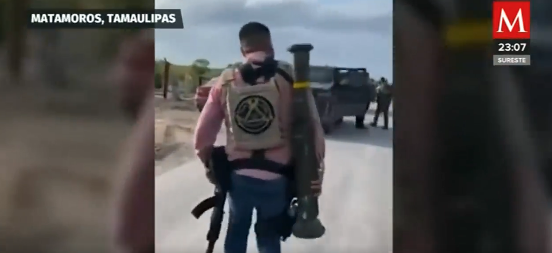 Since the US and its allies began flooding Ukraine with weapons, there have been multiple reports of arms winding up in other countries. Nigerian President Muhammadu Buhari said last year that "terrorists" in the Lake Chad region of Africa were armed with weapons from Ukraine.
"Regrettably, the situation in the Sahel and the raging war in Ukraine serve as major sources of weapons and fighters that bolster the ranks of the terrorists in the Lake Chad region," Buhari said in November 2022.
In October 2022, Finland's national law enforcement agency, the National Bureau of Investigation (NBI), warned in October that arms meant for Ukraine had wound up in the hands of criminal gangs in Finland. The NBI also said that weapons meant for Ukraine were found in Sweden, Denmark, and the Netherlands.